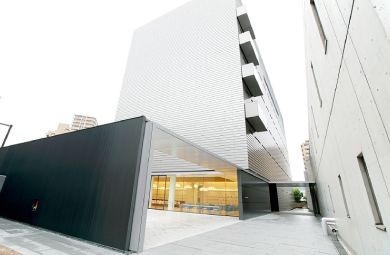 ❶ Ensemble City
Lecture Hall, Broadcasting Classroom, Keyboard Classroom, Voice Acting Anime Song Recording Studio, Studios (various sizes), Materials/Instruments Room, Health Room, Student Counselling Room, "eCafe" Staff Lounge etc. Our large studio is an open area larger than the Maeda Hall.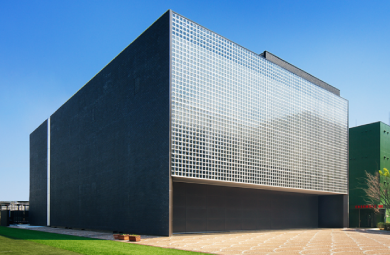 ❷ Black Hall
Used for the electric organ/musical theatre/jazz/jazz vocals/music and acoustic design/rock and pop majors. It contains the Big Mouth (a studio), musical studios, multimedia studios, a professional-grade recording studio, lesson rooms, ensemble rooms and practice rooms.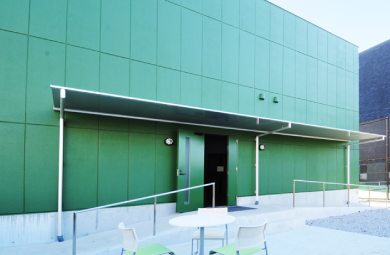 ❸ Black Hall Annex
Black Hall Annex was completed in 2013 to be used by students on contemporary music-related majors.It contains ensemble, practice, lesson, and recording rooms and professional-grade instruments and amplifiers.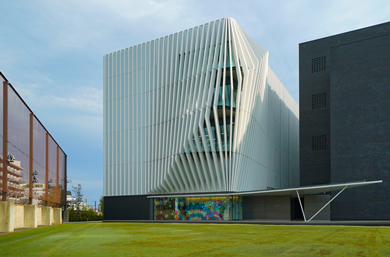 ❹ White Castle (finished in February 2018)
Architectural designs provoke images of grace and movement
・Characteristic designs express the movement of ballet and dance, as well as tenderness in the costumes.
Studio materializes spaciousness and flexibility
・Twin studios, arranged in parallel with a common area in the middle, are capable of accommodating a broad range of curricula in a flexible manner.
Functional studio suitable for ballet and dance
The studio building contains up to eight units with approximately 230m² of space.
・A great space with a high ceiling and a reinforced concrete frame around the outer perimeter, combined with a long span steel frame, a haunched structure and an exposed ceiling.
・A large studio that can also be used for public performances has been established on the ground floor, with a ceiling height of up to six meters and an atrium featured on two levels.
・The performance of the floor facilitates a stage for comfortable dancing and safety secured through the use of a dry double floor structure, which is made of a special flooring material in consideration of its flexibility.
❺ Terminal L
Terminal L contains lesson rooms, computer labs, and a library.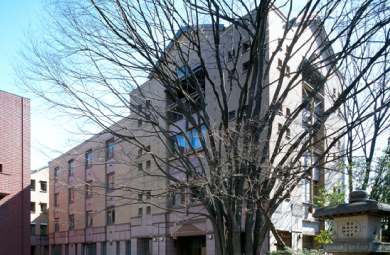 ❻ Etude Station
Etude Station contains over 100 rooms fitted with the latest practice equipment. Each practice room has been acoustically designed with the unique features of various musical instruments in mind. All rooms feature sound retention and sound proofing in addition to full air-conditioning.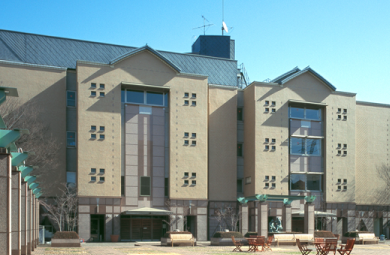 ❼ Kids' Square
Kids' Square contains classroom that can accommodate 20-40 people. They are mainly used for childhood education classes. The building also contains an audio-visual classroom with a large screen, a large and small gymnasium, a squash court, an indoor pool and other facilities, making it suitable for use in various capacities other than formal classes. It also contains the junior college offices.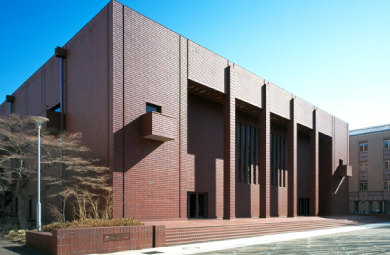 ❽ Maeda Hall
Maeda Hall was constructed in the 19th century European 'shoebox' style as the first full-fledged concert hall in Japan. It was modeled on Vienna's Musikvereinssaal, said to possess the finest acoustics in the world.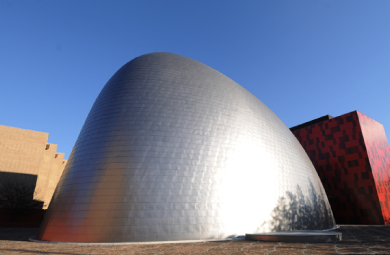 ❾ Silver Mountain
Silver Mountain was completed in August 2013. Ensemble City 1, 2, 3, which were used as rehearsal facilities, were moved to a location near the main entrance and renovated with two upper floors and a basement to form Silver Mountain. Silver Mountain has a different kind of clarity of sound from Maeda Hall (which can seat 1,100 persons) and is poised to become the new center of the university's musical performances.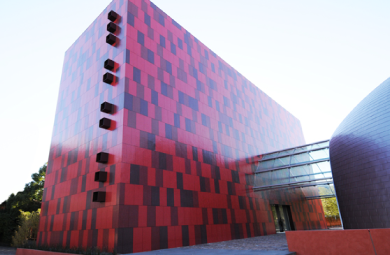 ❿ e-Cube
e-Cube is located next to Silver Mountain. Its name is derived from three 'E's, namely Exchange, Electronics, and Encouragement. The second floor contains consultation desks for student life, education and job counseling, making it a facility that links the university to the student.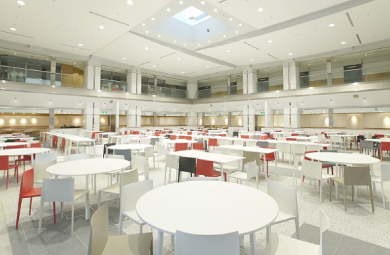 ⓫ College Center
Take the escalator downstairs to find the College Center, which serves as relaxation space for the students. This innovative building has all its facilities underground, from shops to a stylish cafe called MUSE. Although it is situated underground, the College Center has sky-lit open spaces and walls made of marble which let in plenty of natural light, making the rooms feel cheerfully bright and clean.