A Message from the President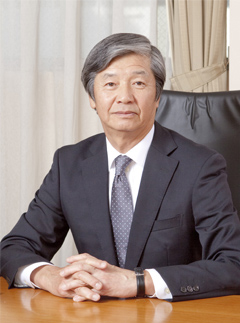 Learning music gives us "the power to grow" and "the power to cooperate."
Studying music seriously at the university level fosters the qualities and skills needed for students to succeed in life. We have termed the skills and qualities fostered in the process of learning music "the power to grow" and "the power to cooperate." Through the process of learning music, these skills and qualities become part and parcel of the learner's psyche. For that reason so they are an important aspect that we place great emphasis as we teach music.
In the course of musical activities, there are activities you tackle on your own and others you tackle in a group. The power to grow and the power to cooperate are developed through those different learning cycles. A learning cycle is a model that expresses the action process needed to become "who you want to be." As you move and act according to the learning cycle, your goals and actions become more focused and concrete. Through self-reflection, you achieve new growth. Then, you feed the strength you have gained back into the learning cycle and strengthen it and thus the world grows and develops.
Strong guidance and a comprehensive curriculum help the power of music to grow.
◆ A wide variety of practical-skill oriented classes that include ensembles, lessons, choruses, and chamber music.
Our excellent faculty refines the senses of each individual student and improves their artistic and technical skills.
◆ A liberal curriculum designed according to individual interests and personalities
Students are afforded the opportunity first to consider what they want to become in future and what kind of courses they need to take to achieve that and then to choose a curriculum that matches their goals.
◆ Planning a concert from start to finish - learning "Concert Planning, Management and Execution" through actual practice.
Under the guidance of a supervisor, students independently learn the work involved in holding a concert by planning, negotiating and and managing one with the final goal of staging an actual concert.
◆ Over 200 concerts a year
Having multiple opportunities to perform (present themselves) before an audience is an integral part of a musician's growth process.
◆ Multiple genres
Senzoku Gakuen enables students to come into contact with different music genres and ideas by providing a learning environment filled with creative new concepts. This allows them to receive a broad yet comprehensive education.
What takes place in the lessons is what is truly sought after in society.
A Senzoku education takes the form of lessons, ensembles, lectures, music practice and performance, concert planning, management and execution among many other classes. The majority of these activities take place in practical ways in small, interactive classes. We have also put an Academic Advisor system in place to create an environment where individual students can set their future goals and receive guidance throughout the process of planning how to achieve them all the way until they achieve results. They are evaluated and receive feedback at each stage of the process. There is an unfortunate tendency for students in many liberal arts universities to fall into the trap of becoming passive receptacles of passed-down knowledge. At Senzoku Gakuen, on the other hand, we pride ourselves on giving students the opportunity to learn skills that are highly regarded in society through our lessons.