Course Introduction Course
Composition Course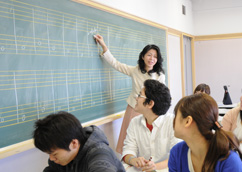 "Make your own music and bring one of a kind new music into this world."
The Composition major was created for people completely dedicated to creating new music.
Features
Learn theory.
Present your work.
Research music in general.
Vocal Music Course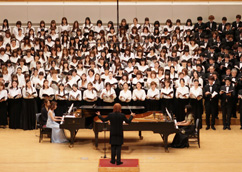 The Vocal Music major pours its energy into turning out performing musicians filled with wide-ranging knowledge and broad perspectives who also possess rich powers of expression. Lessons are thorough, focusing not only on singing but also on finer details like physical training and manners. Students are also taught to master correct pronunciation and accurate singing skills by deepening their understanding of the special characteristics of various world languages. Furthermore, as part of the curriculum students are given roles based on their voices and allowed to learn through ensemble and opera practice. Through this they are able receive guidance that meets their individual needs and desires.
Features
Learn solo, ensemble, song, opera, and chorus styles from world-class tutors.
Master the physical training, deportment, and manners essential for successful stage performers.
Learn vocalization skills that bring the proper features and pronunciations of other languages to life.
Japanese Tradisional Music Course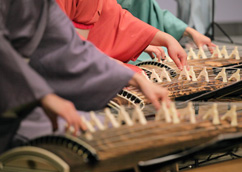 Students learn basic playing methods and improve their performance skills. Furthermore, through ensembles and other practical lessons they learn to focus on tone, heightening their sensitivity of accurate musical intervals (metre), and rhythm so that they can obtain the sound musical foundational skills that are indispensable to the formation of a good musician.
Features
Go beyond particular styles and tackle a wide range of music from classics to modern compositions.
Work with all kinds of instruments, from traditional Japanese to modern.
Learn the knowledge needed to succeed not only as a performer but also as a teacher.