Course Introduction
Percussion Instruments Course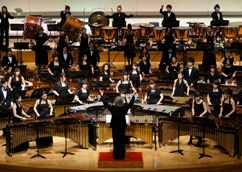 Percussion instruments are instruments that make a sound by being "hit", "shaken", or "rubbed". Students majoring in Percussion Instruments learn about these instruments from both a performance and an academic research aspect. The goal is to get students to think about percussion instruments not just as rhythm instruments but rather to also pursue better sounds and richer interpretations in order to master the ability to adapt immediately to the rhythms of various types of ensembles.
Features
Learn music from the classics to contemporary songs through large-scale percussion ensembles.
Receive lessons directly from pro musicians and play in concerts of various types, working with everything from wind instruments to orchestras.
Learn in a top-class environment filled with a stunning array of percussion instruments that include rare ethnic instruments.
String Instruments Course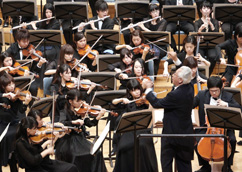 The String Instruments major consists of five instruments: violin, viola, cello, contrabass and harp.Instructors warmly and patiently give the students one-on-one tutoring that helps them bring out their own unique touches. In addition to solos, students are able to take part lessons that improve their ability to play in chamber music ensembles, orchestras and string ensembles, helping them polish their specializations in multiple aspects.
Features
Learn both through high-quality lessons and through lessons and lectures from national and international top players.
Learn the charms and practices of string ensembles and indoor orchestras under the guidance of experienced performers.
Improve personal technique by performing in small chamber music lessons.
Classical Guitar Course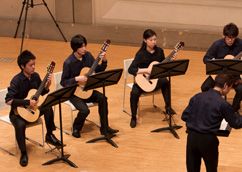 The aim of the Classic Guitar major is to train guitarists who can apply themselves to a wide range of musical genres from various eras. In order to achieve this, students are instilled with an unshakable foundation in basic technique, which they build upon with the ability to read and interpret music scores and the skills needed to play in an ensemble.
Features
Lesson instructors provide detailed individual tutoring. Through Professor Daisuke Suzuki's special lessons, students also learn the practical application skills needed to succeed in competitions and other spheres.
Perform on stage in an ensemble with other instruments or as part of a full-scale guitar orchestra using guitars made for ensembles.
Learn the indispensable skills of guitar music arrangement and composition.