Course Introduction
Piano Course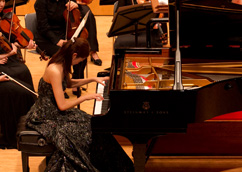 This major provides varied environments that enable each student to spend his or her four years here differently as they aim for their own individual futures. The key focus of the Piano major is piano playing method research, a unique system that allows each student to choose an exam period and topic to match the pace and direction of their studies.
Features
A unique environment and system geared towards the future of every student who plays the piano.
Piano concerto auditions are held every year and opportunities to perform on stage such as chamber music, playing instrumental duets, and playing with an orchestra abound.
The opportunity to learn a variety of genres: not only classical piano but also popular and jazz styles. Students can also take a class in jazz piano.
Organ Course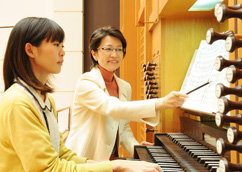 The main focus of the Organ major is to first teach students pieces from various eras and then to teach them to perform works that match their skills.In order to perform at an even-higher level, it is expected that students will learn about the eras in which songs were composed and the history behind them in order to attain a truer sense of style. At the same time students will also learn about the construction and registration of organs and the unique features of organs from various regions and time periods.
Features
Study pieces from various regions and eras from both a technical and an informational viewpoint and learn about the organ's construction and history in a systematic manner.
Lessons take place in concert halls both within and outside the university so you can experience different types of organs.
Practice in full-fledged ensembles with choruses, orchestras, and other instruments.
Wind Instruments Course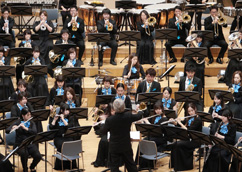 Students in the wind instruments major apply themselves to mastering the soloistic performance techniques of their chosen instruments as they aim to become professional musicians. They are guided in this by a first-class faculty which includes internationally-active performers. There can be no better environment for learning to become a professional musician than studying directly under professionals who deal with live music in real time on a regular basis.
Features
Obtain new methods of expression by experiencing various performance styles such as wind music, chamber music, and orchestras.
Master precise, high-level techniques through solo and ensemble performances under the guidance of a first-class faculty.
Experience several concerts at concert halls within and outside the campus and share your emotions with the audience.